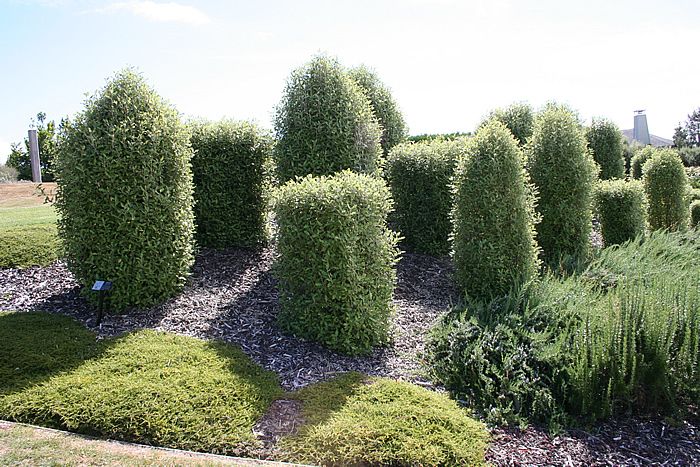 17 July 2015
A Twist on the Humble Hedge
I'm a huge fan of hedges and don't mind putting in the effort to keep them in shape, the old fashion way; hand held hedge clippers and a ladder if required.
A hedge makes a great boundary demarcation, garden edging or feature planting to name a few uses. There are many plant species that can be 'hedged'; some of the varieties I like to use are Paradise Camellia, Tecomaria capensis, Buxus koreana, Syzygium australe, Laurus nobilis, Euonymus 'Emerald Gem' and Michelia figo.
Though for this garden situated in Taupo, it was a good opportunity to put a twist on the humble hedge. Plantings of Olearia paniculata – Akiraho were used and then each clipped to a slightly different shape. As there was already a straight clipped hedge of O. paniculata close by it made perfect sense to use more for these new plantings.
Olearia paniculata works well in exposed and coastal locations. They tolerate dry, well drained soils and are quite happy in full sun or semi shade. With a moderate growth rate, these specimens were planted around 7 years ago.With the ability to tolerate a moderate frost, these specimens also held up well to heavy snow which arrived with the 'polar blast' of 2011.
Copyright 2020 Living Proof Design Ltd