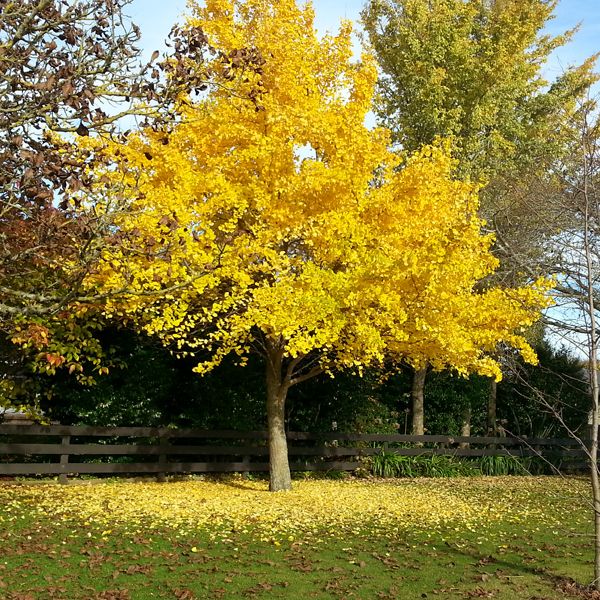 5 June 2017
Golden Glow in the Waikato on Gypsy Day
Driving in the Waikato region on Gypsy Day, thankfully there was no sight or evidence of the usual 'travelling herds'; instead an amazing array of autumnal tree foliage.
The golden glow of Ginkgo biloba – maidenhair tree was certainly a standout, especially as the fog lifted. Looking to the east their contrast elevated with the sultry toned backdrop of the Coromandel ranges and to the west, illuminated by rays of sunlight.
Through autumn and into the start of winter Ginkgo biloba make a real statement as the foliage intensifies to a beautiful rich gold with a 'reflective' carpet created at the base of the tree.
A pyramidal form tree with symmetrical branches still makes for an interesting view when completely devoid of leaves. Dressed in copious metres of seed lights, would provide the ultimate decoration for a mid-winter Christmas get to together.
In spring, new fresh green leaves start to appear.
The popular varieties are all non-fruiting; one namely is 'Autumn Gold'.
In the Waikato region there are plenty of superb Ginkgo specimens that can be seen from the road. Many large solitary specimens situated in farm paddocks, generous street plantings and avenue plantings at the entrance to a few of the local horse studs.
Ginkgo species are easy to grow and ideal for a large garden with plenty of space for them to mature. For a smaller garden Ginkgo biloba 'Jade Butterflies' or 'Little Weeper' could easily be accommodated.
Copyright 2020 Living Proof Design Ltd